Fencing Services
Woy Woy Fencing is a long established family owned business operating on the Peninsula and its surrounding regions of New South Wales and prides itself on quality workmanship and competitive pricing.
We use only high quality products for all of our fencing installations with Colorbond fencing being a predominantly requested installation. We proudly use and recommend top quality Bluescope Lysaght Colorbond fencing, providing you with a product installed to last our tough Australian climate, offering a unmatched full 10 year installation warranty from Bluescope Steel.
Woy Woy Fencing can provide safety, security and decorative fences to your property, whilst increasing the value of your home with a reliable and hardy product. All of our fence posts are installed to a minimum of 900mm in the ground, no matter style or height, which is important for longevity of fences installed on the Peninsula.
At Woy Woy Fencing, we pride ourselves on our outstanding reputation for quality fences and excellent customer service.
Timber Fencing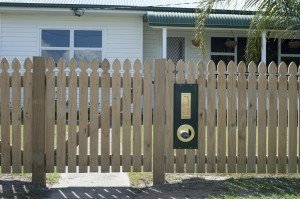 Used in Australia since early settlement, Timber is truly iconic in Australian culture, providing reliable, sturdy and low maintenance fencing options for your property. With a wide range of timber fencing options available, together with our ability to create many styles of unique installations, timber  works with any style of home and landscape, providing privacy, security and enhancement to your home.
Treated Pine Paling
Treated Pine "Lapped" or "Lapped and Capped" Paling
Treated Pine Picket – all styles and designs
Treated Pine Lattice – we can customise your lattice with many different surrounds.
Hardwood fencing using Cypress palings
Ranch Post n Rail Fencing
Horizontal or Vertical Slat Fencing – with many timber options available to suit your home.
Privacy Screens
Gates – all styles and designs
We carefully source all our Timber products to ensure only the highest quality finished fencing installation.
We can work with you to customise all your timber gates so they match well and fit in with your landscaping flawlessly.
Colorbond Fencing
Colorbond fencing has become increasingly popular over the last decade, Woy Woy Fencing proudly use Bluescope Lysaght Colorbond which is built to withstand the tough Australian climate.
Bluescope Lysaght Colorbond is not affected by warping, rot or termites ensuring longevity and a low maintenance fencing option, backed up with a full 10 year installation warranty from Bluescope Steel.
With 15 Colours available in the Colorbond range taking inspiration from the Australian landscape, Bluescope Lysaght Colorbond will provide a product to enhance the appearance of your home and give you peace of mind for years to come.
Woy Woy Fencing can adapt your Colorbond fencing to match your landscaping requirements, with "raked" or "stepped" panel options available for sloping or un-level land, or for something different we can create unique fence designs with combinations of Colorbond and other materials.
Woy Woy Fencing can also tailor your fences with a wide range of accessories and decorative elements available to enhance your fencing installation including the addition of Colorbond Lattice, Horizontal Slats, or Pickets to your Colorbond fencing, all our Colorbond fences have matching colour caps on each post but we can also offer the decorative ball cap if desired.
Bluescope Lysaght Colorbond offer several different styles, with a choice to suit your home
Lysaght Neetascreen Fencing
Lysaght Smartascreen
Lysaght Spanscreen
Lysaght Mini-screen
See the links page for further information from Bluescope Lysaght.
Post and Rail Ranch Fencing
This style of fencing is made up of vertical support posts and horizontal rails, similar to that seen in rural fencing and available using several timber options and styles, we can assess your requirements and build to your specifications.
Security Fencing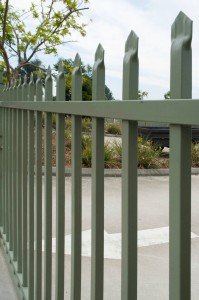 Security Fencing and Gates
Diplomat™ security fencing is very popular in Industrial, Commercial and high-density areas. Powder-coated tubular security fencing and heavy duty security gates are far more attractive and pleasing to the eye than conventional chain wire fencing. The various colours make it appear friendly yet it has all the characteristics required to keep intruders out. Various styles are available and the gates can be electronically controlled if required.
Slat Fencing/Privacy Screening
Timber slats are a more cost effective option for slat fencing, fantastic for that Privacy Screen or Garden decoration. Timber slats can be installed using many different types of timbers with many sizes available ensuring an option to suit your needs, most timber will need to be stained and or oiled, or for a longer lasting look – try painting the slats in a complimentary colour for less maintenance.
Aluminium Slats

Aluminium slats are a modern, stylish and low maintenance solution for fencing and screening.
Available in a full range of colors, slats are powder coated in a long lasting finish that never needs painting. Slats are a modern alternative to traditional timber or picket fencing, and can be installed vertically or horizontally, with or without leaving a gap. There are a few style slat sizes to choose from.
Timber Slats

Timber slats are a more cost effective option for slat fencing, Timber slats (or decking) often need to be stained and or kept oiled, or they risk drying out and becoming grey. for a longer lasting look – try painting the slats in a complimentary colour for less maintenance.



Tubular Fencing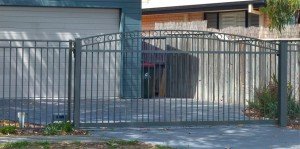 Tubular fencing has many uses around your home, whether it's for pool fencing, garden fencing, entry gates, driveway gates (sliding or double) or even for balconies and decks, there will be a tubular fence design to suits your needs, with a colour to suit your home.
We proudly use a 19 mm Aluminium tubular fence for added strength and durability supplied by our local manufacturer, all your panels and gates can be custom made to suit your requirements with the addition of Letterbox, Paper-holes an easy extra. All pool fencing designs meet Australian standards and are installed with the highest quality Safety Locks and hinges.
Weldmesh Fencing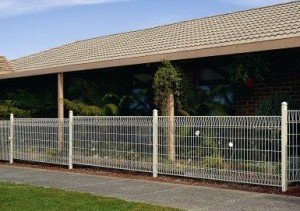 A traditional fencing, Weldmesh has been around for quite some time. Now with newer designs and the option to have the panels Powdercoated, this durable and easy fencing system is growing in popularity once more. There are many different sizes available and with the option of design and with the installation of timber or steel posts we can create a look that suits your home or business.



If you are looking for security fencing, automatic gates, security gates or timber fencing, call us on 02 4341 6973, email us at woywoyfencing@bigpond.com or complete our online enquiry form.